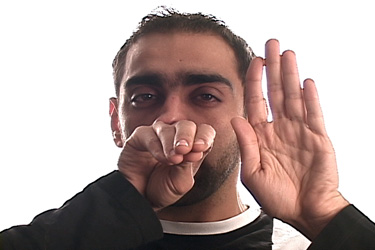 The Biennial was not a total waste. There were a few good pieces (like this one), but most of it was very predictable.
Julia Meltzer and David Thorne, Still from not a matter of if but when.....
[then the title gets so long it's silly] 2006. Video projection, color, sound; 32 min.
Better late than never, here is the much-anticipated Whitney Biennial checklist:
Building Supplies/Low-Brow Materials
Home Depot should have sponsored the show
Clip Art
Design as Art
Pantone
Chairman Mao
Suburban Angst
Size without Monumentality
Obsessive Multiples
Faux-naif/Infantile drawing style
Nothing's sadder than an MFA who (a) managed to avoid learning how to draw
or (b) can draw but feels the need to pretend not to.
It's not about the figure, it's about the body/Bodily fluids/Cast body parts
Ominous Buzzing sound. [Will installationist ever get tired of that? I
did about 25 years ago]
It's not about the execution, it's about the fabrication
It's about Language but it doesn't say anything
I must say that I did not notice any deer antlers, robots, or creepy manequins and that left me rather disappointed. A few artists did stand out with work good enough to restore my faith:

Julia Meltzer and David Thorne made me question my assumptions.
Harry(ette) Dodge goes on a witty and touching journey.
Daniel Joseph Martinez delivers in every facet from idea to execution.
Mary Heilman's paintings are delicious and understated.
Charles Long. Didn't want to like it but I loved it. His work combines really
well with Heilman's.
Rahel Harrison does a great job of commenting on the mess that used to be the American Dream. It's the show's single mostt dominant thread.
JedediahCaeser's sculptures(?)/paintings(?) are just great.
Adam Putnam's Magic Lantern was so good I didn't want to leave.
Mika Rotttenberg might have the best piece in the show. Very immersive,very thought-provoking. I give her and Julia Meltzer co-prizes for best in show.

Worst in show: Certainly the hanging. Perhaps taking a cue from the crew at the New Museum, it's very, very difficult to tell who created which work. On a positive side, and positive being the key word, the show is hung in such a way that the over-and-over dreary subject matter does not make for a depressing experience. I felt fresh all the way through the visit, though annoyed to see so much derivative conceptualism (a deadly combination). still, it was worth the visit and there were a few yummy veggies hidden amidst the iceberg lettuce.